What is the number one goal of a business website? Plain and simple – generate revenue. Every business sells something. Either a physical, tangible product, or a digital service. In today's internet driven world, whatever you sell – you need to sell it online. That means you need an ecommerce platform retrofitted specifically for your business, and embedded into your website. The goal of this article is to highlight how to monetize your website through Ecommerce.
Ecommerce Website Development
An ecommerce website serves as the online storefront for your business. It allows your customers to browse through your products, add them to their online shopping cart, and pay for their order through a credit or debit card, or an online payment service like PayPal.
You can take advantage of customizable ecommerce platforms like Shopify and Squarespace. These websites let you build out your online storefront and collect payment from your customers on your behalf. They work on tiered pricing plans that offer varied rates for credit card fees, as well as optimizing features. Paying for a higher tier plan will allow you to embed your ecommerce site directly into your website. This will let your customers shop and pay for their products directly on your website instead of being directed to your ecommerce platform.
Hire an Ecommerce Website Development Company
Don't sweat if you aren't a website development pro. Most business owners aren't. That's why there is a thriving website development industry. There are even website developers who focus solely on building out solid ecommerce websites. Don't second guess or overthink it. If you are feeling uncertain about your abilities to develop a top notch ecommerce website – then hire a pro.
There is a lot that goes into building a great ecommerce website. Even things that seem simple like background color and layout design can become overwhelming if you aren't experienced in web development. What can take you hours to get done, an ecommerce website development pro can get done in a matter of minutes.  That's not to mention the coding that goes into embedding ecommerce into your website.
Don't overthink it – hire an ecommerce website development company. They will ensure that your online storefront is built out to fit your unique business needs, and seamlessly embedded into your website. Monetizing your website is the goal when it comes to optimal revenue generation. An ecommerce website developer can make it happen.
Ecommerce for WordPress
WordPress is one of the largest website hosting services in the world. There is a seemingly never ending amount of customization that is possible with the WordPress platform. This customization includes ecommerce. Now that you know the importance of ecommerce, and hiring an ecommerce website professional to get the job done – let's talk about some of the best ways to monetize your WordPress website.
Ecommerce Plugins for WordPress
The ecommerce platforms like Shopify and Squarespace that were mentioned earlier are what's known as Software as a Service (also known by the shorthand, SaaS). These are stand alone platforms that do not need an outlet other than their website. The second category is ecommerce tools are known as plugins. A plugin is an ecommerce software that needs an outlet to operate. That outlet is your WordPress site. Once you install a plugin on your site, you can further customize it with extensions.
Here are a couple of the top Ecommerce Plugins for WordPress.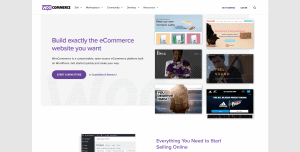 WooCommerce is perhaps the single most popular ecommerce WordPress plugin. It's customers account for 8% of all ecommerce business in the world, and 21% of the top $1 Million grossing ecommerce websites. It is an open source plugin which means that anyone can create extensions, and fix bugs. These improvements are available to any WooCommerce user.
WooCommerce is completely free to use on your WordPress website, with additional paid customization features available. This means that you don't have to spend any money on your ecommerce service. If you decide to further customize your site, the paid features are very affordable and there is a never ending amount of extensions that you can integrate into your site.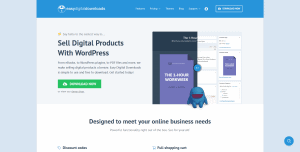 Easy Digital Downloads – also known as EDD – is a preferred plugin for businesses that sell downloadable, or digital services. The interface is clean and simple, making it easy to showcase a gallery of non-physical products.
The EDD plugin is free, and most small businesses can get by with the plugin alone. If you want to further customize your website, you can choose from a plentiful list of extensions. Like WooCommerce, EDD is also open source, so you can take advantage of constant plugin and extension improvements from a community of developers.
Best Ecommerce WordPress Themes
Your WordPress ecommerce site is only as good as your theme. To non-developers, a theme seems like only a color scheme and layout design. But to those with extensive knowledge of ecommerce development, a theme is so much more.
Your WordPress theme can affect vital aspects of your ecommerce site including the ease for your customers to scroll through your site, Search Engine Optimization (SEO) metrics, as well as the adaptability of plugins and extensions.
Here a couple of the best WordPress themes: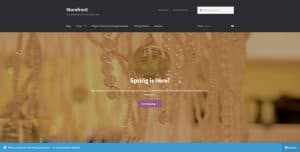 Storefront is the official theme of the WooCommerce plugin we discussed earlier. If you are considering installing the WooCommerce plugin, then the Storefront is the theme you need to go with. Just like WooCommerce, the Storefront is clean, simple, and free to use. If you want more customization power – check out the Storefront power pack. It allows you to modify the theme without using code.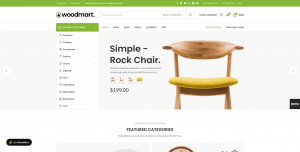 WoodMart is modern and innovative. It provides access to a wide array of advanced features that let you really customize your site's front end. This theme is both powerful and clean, but it will likely require some coding. You will want to work with your ecommerce website developer to get this theme up and running on your site.
Need Help with Your Ecommerce? We Can Help!
Need help getting your Ecommerce website up and running? Windhill Design can help! We are a knowledgeable, friendly, and experienced website development firm that can assist with all your digital marketing needs. Whether you need your WordPress site retrofitted just for you, or an entire website from scratch – we can make it happen.